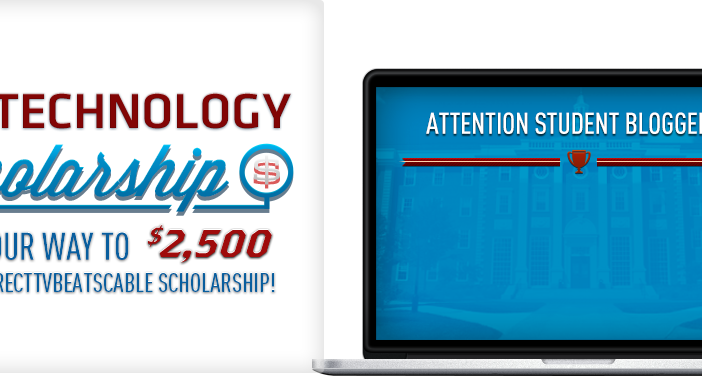 Post Criteria
The subject matter for blog entries must pertain to your favorite type of technology and why it is important to you. Blog entries must be at least 500 words in length and be properly submitted no later than 5 p.m. EST April 30, 2014.
Applicant Eligibility
All applicants must be U.S. citizens or permanent legal residents of the United States. Academic Requirements: All applicants must be either: (1) a high school or home school senior graduating or earning a GED between August 1, 2013, and June 1, 2014, who will enroll as a freshman at a two-year or four-year college or university in fall 2014, or (2) a student enrolled during the 2013-14 academic year on a full-time basis and in good academic standing at an accredited two-year or four-year college or university or in an accredited graduate school program.
Description of Funds
One applicant (the "recipient") will receive a one-time $2,500 scholarship to be applied to qualified college or graduate school expenses (including tuition, fees, books, and on-campus room and board) for the 2014-2015 academic year. Funds are provided by Install Direct TV, LLC (the "Company"), which owns and operates directtvbeatscable.com, and will be made payable directly via mail to the accredited or university last designated by the recipient after July 1, 2014.
Winner Selection and Announcements
After the April 30, 2014, deadline, the recipient will be selected by a team of judges following review of all entries received prior to the deadline. Entries are judged on originality and insight, writing quality and overall website authority. The recipient will be announced on or about May 31, 2014, on directtvbeatscable.com and notified directly by the Company by email at the email address provided by the recipient upon submission of his/her blog entry. Judges will include the Company's [director of IT, director of Web development, and director of content creation]. If the recipient is disqualified or fails to contact Company within 24 hours of being notified of the results, Company reserves the right to determine an alternate recipient or not to award the scholarship, in its sole discretion.
College/University Approval
Each applicant's designated institution must be accredited and listed on the website of the U.S. Department of Education (http://www.ed.gov/). Applicants attending military academies are ineligible for this scholarship. All school transfers are subject to accreditation approval.
Responsibilities of Applicants/Recipients
By participating in this program, each applicant expressly: (A) releases the Company, and its employees and agents from any liability or claim of any kind or nature for any loss, claim, damages or injury of any kind associated with participation in the program and acceptance, possession or use of any prize; (B) accepts and agrees to be bound by these rules and Company's decisions relating to participation in the program, selection of recipient and awarding of scholarship, all such decisions being final; and (C) agrees that South Carolina law governs this program without regard to conflicts of law principles, and consents to the jurisdiction and venue of the federal, state and local courts of Lancaster County, South Carolina, for the resolution of all disputes pertaining to or arising from this program. The recipient must complete an affidavit of eligibility and release (to be signed by his/her parent or legal guardian, if the recipient is a minor), on forms to be provided by the Company. The recipient must be actively enrolled full-time as a freshman, sophomore, junior, senior or grad student in the fall semester of 2014 and for the entire academic year without interruption, barring illness, emergency or military service. It is the recipient's responsibility to verify receipt of funds with their designated institution and notify the Company should the award check not arrive on or about 30 days from the issue date. By entering, each applicant represents that his/her submission is a work of original authorship by the applicant, and agrees that the Company will have a perpetual, royalty-free, non-exclusive, worldwide right and license to use the submission in any manner. The Company reserves the right to disqualify any entry for any reason, including without limitation: materials not suitable for general public viewing; obscene, lewd or offensive materials; the use of third party content or other materials not authored by the applicant; and materials previously published or entered into any other competition. The Company is not responsible for lost, late, damaged or illegible submissions, faulty transmissions, or submissions containing any virus or other system malfunction. Judges' decisions are final. Any taxes are recipient's responsibility. The Company reserves the right to alter, discontinue or cancel this program at any time without notice for any reason, including in the event of fewer than 20 applicants. Only one entry per person will be accepted.
Sponsor
DirectStar TV, LLC d/b/a Directtvbeatscable.com
1101 521 Corporate Center Drive
Fort Mill, SC 29707.