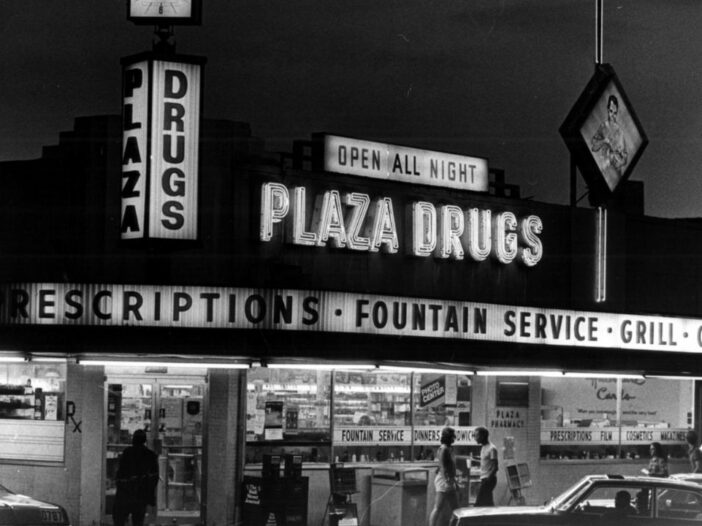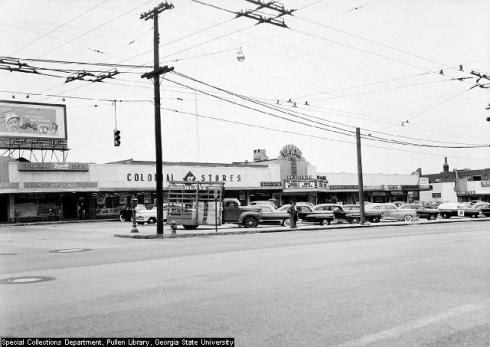 According to the New Georgia Encyclopedia, Briarcliff Plaza was "Georgia's first true shopping center." Located at the corner of Ponce and N. Highland, it was the first retail space with an off-street parking lot in Atlanta in 1939.

In the 1960s, Plaza Drugs was a delightful place to buy Russell Stover chocolates, makeup, and mother's little helpers.
Of course, between being open 24 hours a day and Ponce de Leon Avenue's departure from its genteel origins, Plaza Drugs' scene changed with urban decline. You can see and read about Briarcliff Plaza social life in the very early '80s in George Mitchell's out-of-print Ponce de Leon: An Intimate Portrait of Atlanta's Most Famous Avenue, which is worth every penny you have to pay for it.
In the mid-1980s, new wave kids The Plaza Drugs played at the 688 Club on Spring Street, and here on the American Music Show. They are so good!
Speaking of the Ponce book and Ponce itself, did anyone read that article in the AJC a couple of weekends ago, "Residents along Ponce band together to fight crime"? Signature quote: "For years, Ponce de Leon has been shorthand for urban decay and bizarre street theater."
It's just so interesting to read this in 2010, because in Mitchell's book he talks to a few Ponce denizens who, in 1983, predict a lot of gentrification along the street very soon. I think it's the guy at the Open Door Community who cites the pending development of the old Ford Factory into residential lofts and retail space as the first of what he thought would be sweeping and immediate changes along the corridor to make it fancy and bougie. Little did he know that those lofts would merit review like this on Yelp, and that the adjacent lot would one day be known as Murder Kroger. And that the dividing line between Murder Kroger and the Ford Factory lofts is called "the crack track" in some circles, although the term "the BeltLine" does seem to be catching on these days.
And now the #2 MARTA bus will be eliminated and the route shared with two other bus routes (the #6 and another I forgot), which makes me question if there's some sort of conspiracy from the DeKalb end of Ponce where that county is like, "Uh, our end of this street is just fine; can you please keep those people who get on at City Hall East from making it all the way to Decatur so easily?"
*Look at zeusface's other vintage Atlanta photos from '89-'95. THEY ARE MAGNIFICENT.