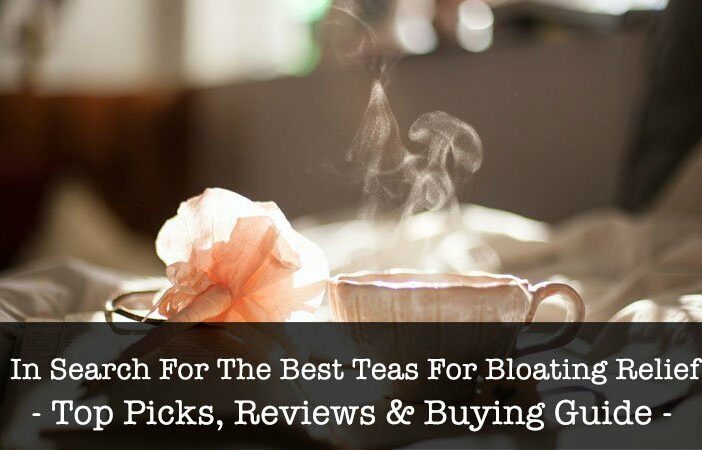 Quick Summary: Are you in need of a super-fast bloating relief? After trying out dozens of brands and varieties, we discovered that Yogi Ginger Tea for Bloating Relief is the best choice. This tea combines fresh ginger, spicy black pepper, and invigorating lemon balm for a refreshing herbal blend. Ginger is known for its anti-inflammatory properties that can help reduce bloating and support digestion. If you're not too fond of ginger, then make sure to check out our top 10 teas for bloating. We carefully reviewed each product so you could find the best combination of spices for your personal preference.
Bloating is one of the most common stomach problems people experience.
It often develops after overeating, eating unhealthy foods, drinking carbonated beverages, or as a result of food allergies or intolerances. But did you know that drinking herbal teas can help you relieve bloating and immediately feel better?
While you may think that a steaming cup of tea will do nothing more than give your hands something warm to hold, we're here to teach you that tea can be used to treat various health issues.
Tea is one of the best natural remedies, and it is particularly effective in treating bloating and digestive discomfort. Peppermint, chamomile, lemon balm tea, and other herbal teas have long been used as natural remedies to treat bloating and gas.
Also, research shows that drinking tea may help manage various digestion problems ranging from nausea and indigestion to ulcers and irritable bowel syndrome.
We've put together a list of the best teas to help relieve bloating. Not only will these teas alleviate symptoms of bloating and gas, they also have other health benefits such as eliminating stomach cramps and abdominal pain.
Ranging from the calming chamomile tea to the fruity hibiscus tea, our buying guide includes the tastiest teas that will eliminate stomach problems and satisfy all palates.
Quick Navigation:
---
---
Reviews of 10 Top Teas For Bloating Relief
There is a lot of tea on the market, and you need to be careful when making a decision to avoid any side effects. If you need help getting the best tea to alleviate bloating, here are 10 reviews to help you well on your way to getting your waist snatched.
Best Overall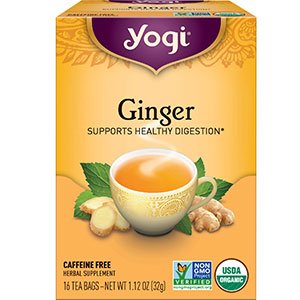 What You Will Love: Yogi tea comes in a 16 count pack of 6 boxes and are made from purely organic plant sources. Its combination of ginger root, lemon balm, black licorice, black pepper, and peppermint tea peppermint leaves is not only unique, but it is also functional in relieving bloat.
This green tea soothes the tummy and relaxes the body with its caffeine-free blend. With ginger at the forefront, the tea helps with healthy digestion, giving the body a Zen feel by making the tummy balanced.
It brews for 10 minutes and can be used for digestion by taking a cup before meals and 20 minutes after.
Pros:
Gingerols can help calm dizziness, vomiting, and cold sweats.
Rejuvenating, soothing, and invigorating taste.
Tea may increase feeling of fullness and reduces hunger.
You can enjoy it any time of day.
Cons:
Spiciness may be too muchfor some people.
Pepper components may worsen reflux issues.
---
Best Budget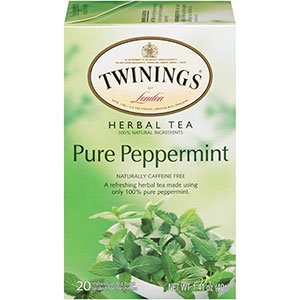 What You Will Love: Twinings Pure Peppermint Herbal Tea comes in a 14 count 1.41-ounce box. This herbal green tea is made from peppermint leaves guaranteed to take care of bloating from overeating or selective eating of certain foods that don't agree with the body.
It brews for about five minutes and can also be taken while cold with some ice cubes. It has a refreshing taste and a flavorful aroma, which is capable of calming the nerves.
Twining's is made completely from peppermint leaves and does not have caffeine included in its production process. It has no additives like sugar or preservatives.
Pros:
Invigorating, uplifting, minty taste to start your day right.
Made exclusively from peppermint leaves sourced from Egypt.
Soothes upset stomach, improves digestion.
Can be used to reduce gas, bloating, and indigestion.
Made without artificial ingredients.
Cons:
Peppermint components may worsen reflux issues and cause heartburn.
---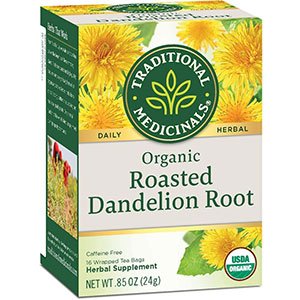 What You Will Love: This 0.85 oz 16 count pack of one tea is best for liver detoxification, overall liver health and can also treat a fatty liver.
Made for people with diagnosed with a high liver enzyme, it is also a mood relaxer, taking care of anxiety issues while keeping the drinker in a calm and lucid state. Its smooth taste and great aroma are stemmed from its roasted organic roots.
It brews for about 15 minutes to enable the maximum benefits of the dandelion tea to seep into the cup. The roasted dandelion root tea can be taken three times daily, for about four to six weeks, unless otherwise prescribed by a doctor.
Pros:
Pleasantly roasted, sweet and slightly bitter taste.
Rich in antioxidants, vitamins, and minerals.
Excellent for improving liver health and liver detoxification.
Helps your liver filter potentially harmful chemicals out of your food.
Cons:
Dandelion root components may interfere with some medication.
---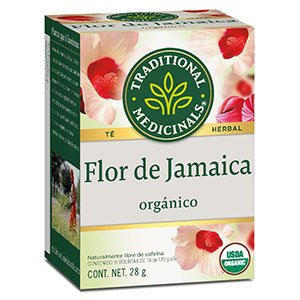 What You Will Love: The traditional medicinals organic hibiscus tea comes in a box with 16 sealed tea bags. It is made completely from organic ingredients, with a unique and high-quality blend of hibiscus, lemongrass and blackberry leaf.
This organic hibiscus tea is 100% free from GMO's, Kosher and certified. It works for regulating bowel movement and settling bloated tummies from overeating.
It also supports the cardiovascular system and should not be taken without doctors go ahead, in the case of pregnant or breastfeeding women.
It brews for 10 minutes, can be taken up to four times a day and might need a sweetener, if its tangy taste is too overwhelming.
Pros:
Supports the cardiovascular system by lowering blood pressure.
Tart, tangy, and fruity taste.
Packed with antioxidants, vitamins, and minerals.
Lowers blood sugar and blood fat levels.
Promotes weight loss.
Has an anti-bacterial and anti-inflammatory effect.
Cons:
It may cause a significant drop in blood pressure
---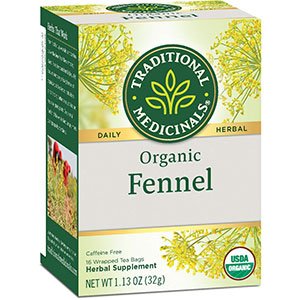 What You Will Love: The traditional medicinals organic fennel tea comes in a 16 count pack of six, made from kosher ingredients that have all been certified as organic.
This non-GMO blend has a slightly bitter and sweet taste and is made from high-quality herbs. It is best taken after dinner and helps soothe the tummy while aiding digestion. It helps take care of bloating, excessive fullness and gas.
It should not be taken by people allergic to parsley plants and breastfeeding and pregnant woman should always consult the doctor before using this green tea.
It should be brewed for 15 minutes to enjoy the maximum benefits in a cup and can be taken for up to four times a day.
Pros:
Has a relaxing and calming effect (especially on muscles).
Excellent for the stomach; can reduce gas and bloat.
Effective treatment for irritable bowel syndrome (IBS).
Research supports that fennel seeds may help prevent heart disease and cancer.
Cons:
Water retention is a possible side effect.
---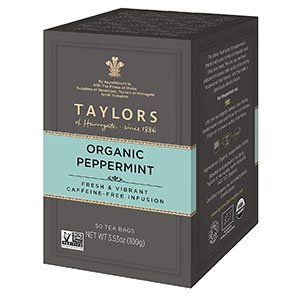 What You Will Love: Taylors of Harrogate have a unique, compact packaging. The menthol in the leaves delivers delightful flavor, while its anti-inflammatory properties help relieve bloating and stomach discomfort.
Taylors of Harrogate have been producing skillfully blended and flavor-packed teas since 1886. Their peppermint tea improves and soothes the digestive system.
Compact Design
Compact by Design (Certified by Amazon) products remove excess air and water, which reduces the carbon footprint of shipping and packaging.
Environment-Friendly Production
The Rainforest Alliance seal stands for more sustainable farming methods that help improve farmer livelihoods & mitigate climate change.
Anti-Bloating Properties
Peppermint tea offers analgesic properties that help to alleviate pain associated with bloating and menstrual cramps.
Pros:
Delightfully flavored tea that comes with many benefits.
Preparing the tea is easy, and it takes only 3-4 minutes.
The tea may be sweetened with sugar or honey.
Cons:
The taste was too strong and bitter for some buyers.
---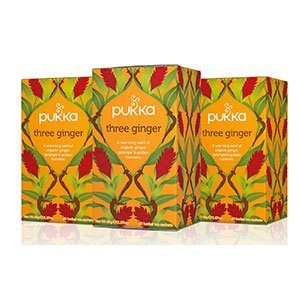 What You Will Love: Pukka Three Ginger tea is one of the best herbal green teas to help relieve bloating and gas. Ginger, turmeric, and galangal are combined into a delicious, spicy blend with inflammation-fighting and gas-relieving properties.
This tea perfectly blends three spicy ingredients that will not only help with bloating and abdominal pain but also stimulate all your senses.
Tasty Blend of Three Spices
A blend of ginger, turmeric, and galangal creates a delightful aroma. Thanks to these herbs, this tea will relieve abdominal pain and help the feeling of an empty stomach.
Smart Packaging
Every Pukka plastic-free tea bag comes in its own recyclable envelope to retain the essential oils in organic herbs.
Numerous Healing Properties
Ginger, turmeric, and galangal do not only relieve digestion problems. These ingredients are very helpful for battling colds and also contain powerful antioxidants.
Pros:
Spicy flavor that awakens all your senses.
Ginger, turmeric, and galangal have great health benefits.
Teabags have two chambers for a well-flavored cup of tea.
Cons:
Bags sometimes split in boiling water and leave a residue at the bottom of the mug.
---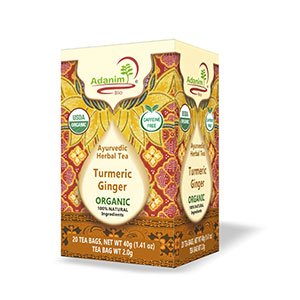 What You Will Love: Adanim organic tea can do wonders for your digestive tract. This delicious blend of turmeric and ginger is rich in antioxidants and has anti-inflammatory properties.
Every sip of Adanim organic tea will delight you with its aroma, delicious flavor, and scented fragrance. This is one of the tastiest teas that also helpseliminate bloating and gas.
Unique, Spicy Blend
This ginger tea is made from ginger root and turmeric and it contains a powerful nutritional value and numerous benefits for your digestive tract.
Certified Organic Tea
This tea is a USDA certified organic product. It doesn't include any colorants, preservatives, or artificial sweeteners.
Great for Colds
This is one of the best teas to help alleviate sore throats and colds as the ingredients strengthen the immune system.
Pros:
Tea full of aroma and delicious flavor.
Boosts the immune system and reduces gas and bloating.
USDA certified organic product.
Cons:
Turmeric root may leave yellow stains on mugs.
---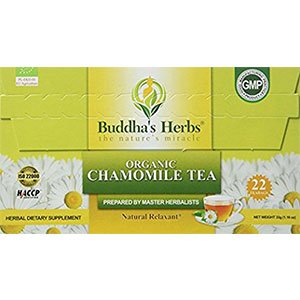 What You Will Love: Floral taste, with gentle fruity notes and a mellow, honey-like sweetness that will leave you with a silky, soothing feel in your mouth.
Chamomile has been consumed for centuries as a natural remedy for many health conditions. Notably, when used in a tea, chamomile flowers may help you treat diabetes and lower blood sugar in a natural way.
Will Get You Sleepy
It contains apigenin, an antioxidant that may promote sleepiness and reduce insomnia.
Promotes Good Digestion
Excellent for the digestive system because it reduces acidity in the stomach and inhibits the growth of bacteria that can cause various digestive problems.
Great for Colds
Chamomile has a soothing and antibacterial effect on sore throats and can help unblock a clogged nose.
Pros:
Boosts immune health.
Chamomile tea may relieve anxiety and depression.
It contains powerful antioxidants that reduce the risk of cancer and heart disease.
Cons:
Too much tea can make you feel drowsy.
---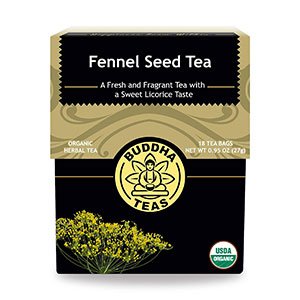 What You Will Love: Licorice-like taste which will make your cup of tea refreshing and tasty.
Fennel tea is made by pouring boiling water on a teaspoonful of bruised seeds of Foeniculumvulgare plant. It is used for treating flatulence and to de-bloat.
Great Health Benefits
Research showed that fennel seeds contain components that exhibit antifungal, antibacterial, antioxidant, antithrombotic, and hepatoprotective activities which has numerous health benefits.
Diuretic Effect
Tea acts as a strong diuretic and can be used in treating hypertension and water retention problems.
Breath Freshener
Fennel seed tea is one of the original ways to relieve bad breath due to its antibacterial properties.
Pros:
Used in treatment of glaucoma; may improve eyesight.
Increases the amount of antioxidants in your body.
Tea has anti-bloat properties and relieves constipation.
It will help cleanse your body and move toxins out of your system.
Cons:
May cause complications when used with acetaminophen medication.
---
How To Choose The Best Tea For Bloating Relief?
Bloating
Bloating can be caused by a number of things, such as eating salty or fatty foods, overeating, and taking in air from the atmosphere into the tummy.
Buying the best tea for reducing bloating is all so important, as beauty and health are a huge concern in today's world. The tea not only helps trim down your waistline; it could also be used to drop a couple of pounds, together with some exercise and eating right.
You can get the best out of getting rid of bloat, by having an idea of what works for you and your body.
Caffeine
Stay away from tea with caffeine. If you're looking to get rid of bloat, in addition to losing weight you might want to stay away from tea containing caffeine.
Caffeine is a stimulant which could improve bowel movement, curb hunger pangs and eliminate water weight, but caffeine also prevents you from sleeping, which is not the best course to take if you are planning on saying goodbye to your bloated tummy.
This is because deprivation of sleep causes you to eat more, and eating more causes you to gain weight. If you do plan on using tea with caffeine, it is best to have it stop drinking it six hours before you go to bed.
Ingredients
Go for tea with natural ingredients. The best tea for stomach pain and bloating are those from organic plant sources, as they don't have pesticides or GMO's that could interfere with the tea's work.
Side Effects
Stay away from tea with side effects. Even tea with natural ingredients can cause side effects due to its overuse or interaction with other elements.
If you want to get the best out of tea for stomach pain and gas without the addition of negative effects, you need to buy from a legitimate source, as well as conducting proper research on the items used to make the bloating tea.
---
Our Recommendation for the Best Tea for Bloating Relief
Yogi teas – ginger blend is the best tea for bloating. It is made from a blend of organic plant sources with a ginger base that is certain to take care of digestion and bloating problems while balancing and calming down the body's system.
It has peppermint leaves, which helps in calming down the drinker, by taking care of anxiety issues.
It's caffeine free nature is a very big benefit, as there won't be any sleep interference, which in turn affects metabolism, weight loss, and overall general health.
The organic ingredients are sure to come without any side effects, enabling your bloating issues to be properly taken care of.