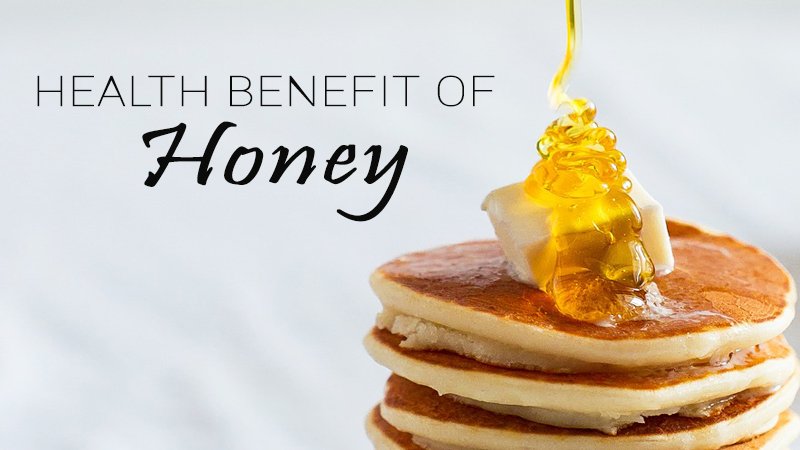 "Honey catches more flies than vinegar"- proverb
Honey has been revered in our culture since ancient times. We are drawn to this beautiful sweet substance because of itscolor, taste, and most importantly, its remarkable health benefits.
Sweeter than table sugar because of its high fructose content, honey is a delicious natural sweeter that does not wreak havoc on your health like other sweeteners such as sugar, artificial sweeteners, and syrups.
Honey is best when it's raw, organic and locally produced, unfiltered and unheated. Honey from a local farm is better for you and less likely to trigger any allergies.
The following article will outline the health and nutritional benefits of honey—how it can be used to remedy everyday health problems,types of honey, a variety of recipes with honey, some risks associated with honey and some tips for purchasing honey online.
WHAT YOU'LL LEARN FROM THIS ARTICLE
What is Honey?
The Various Types of Honey
13Science-Backed Health Benefits of Honey and its Uses
How to Make Salad Dressing with Honey and other Honey Recipes (Teas and Desserts)
Homemade Honey Facial Mask Recipes
Some Risks Associated with Honey
Shopping for Honey Online
WHAT IS HONEY?
Bees produce honey from the sugar secretions of plants, most commonly known as floral nectar, honey is one of the most common sweeteners for human consumption.
Humans collecting honey is an ancient practice. Evidenced by a cave painting in Valencia, Spain, the use and production of honey has been recognized to have been around for 8000 years.
TYPES OF HONEY
Honey changes in color and flavor depending on where the nectar comes from. Some honey is dark in color and bold in flavor, while other varieties are light and mild.
Other factors can change the taste of the honey: weather, temperature and even the time of year the nectar is extracted from the bees. Honey from the same type of flower could taste different depending on the time of year it is produced.
The National Honey Board cites 14 different types of honey in detail. There are over 300 varieties in the United States alone.
The first thirteen honey varieties are some of the most distinct varieties in North America and the last variety, Manuka honey, is one of the most popular imported honey varieties in North America.
Alfalfa Honey
Alfalfa honey is an everyday honey. The Alfalfa legume and its blue flowers bloom in the summertime in the Western States like Utah, Nevada, and Idaho. The honey has a light amber color and a subtle flavor.
Avocado Honey
Californian Avocado honey is bold and rich in flavor. With a distinct buttery taste, avocado honey is perfect for sauces and salad dressings.
Basswood Honey
Covering a lot of territories, the basswood tree can be found in the southern part of Canada to the southern part of the United States. The blossoms from the tree produce distinctly flavored nectar.Basswood honey has a sharp flavor that goes well with other flavors and is great for recipes.
Blueberry Honey
Produced in New England and Michigan, blueberry honey is from the white flowers of the blueberry bush. It's light amber in color and has a slight blueberry flavor. Blueberry honey works in baked goods and as a table honey.
Buckwheat Honey
Buckwheat can be found in the wild, or it can be planted in the spring. The honey is made in Ohio, Wisconsin, Pennsylvania, New York and Canada. Buckwheat honey is dark and has a strong malty flavor. Great for barbecue sauces and baked goods.
Clover Honey
This is the most traditional of honey varieties. Used mainly as a table honey, clover is the most common nectar producing plant.The honey is light in color and flavor making it perfect for everyday use. As common as this honey is it still varies in color depending on the location. The honey can look a watery white to light amber color.
Eucalyptus Honey
Eucalyptus honey comes from the Eucalyptus plant in Australia. The flavor is bold with a slightly medicinal aftertaste that some may find unappealing. But the bold color and flavor make it a perfect honey for teas, sauces, and dressings.
Fireweed Honey
Fireweed Honey comes from the Northern and Pacific states as well as Canada. It grows in the woods from the trees beautiful pink and purplish flowers. The flavor is delicate and sweet, and it's an excellent gourmet honey for desserts and barbecues.
Orange Blossom Honey
Orange Blossom Honey is the honey source of Florida. It's also in Texas, Arizona, and California. The honey is a combination of citrus, floral varieties.The flavor is distinct, and the color can vary from extra light to amber. Orange blossom honey is subtle enough for everyday use but is also great for desserts.
Sage Honey
Sage is a shrub found on the coast of California and the Sierra Nevada Mountains. Sage honey goes well with strong cheeses. The flavor is sweeter than most honey.Light in color, almost white. Sage honey comes in different varieties: Black Button Sage, White Sage, and Purple Sage.
Sourwood Honey
Sourwood Honey is found in the Appalachian Mountains from Pennsylvania to Northern Georgia from the Sourwood tree, also known as the "Lily of the Valley" tree. Its color goes from light to amber light. Sweet and spicy, this honey type is excellent for cooking.
Tulip Poplar Honey
Tulip Poplar Honey can be found southern New England to southern Michigan to the southern Gulf States. The Tulip Poplar tree is very tall and produces a large green flower that blooms in the spring.The honey is dark but not as bold in flavor as one might expect. This honey is great for baking and cooking.
Tupelo Honey
Tupelo honey comes from the southeastern region of the United States. The honey is mild in flavor and light in color. Tupelo Honey is one of the most expensive because it is the most expensive to produce require special care.The flavor is delicate, excellent as a topping for desserts.
Manuka Honey
Manuka honey is produced in New Zealand by the Manuka bush.This honey is more noted for is health benefits than its flavor because of its high antibacterial properties. Though all honey has antibacterial properties, Manuka honey has been recognized as exceptional with advocates saying it treats infections and helps heal skin.
NUTRIENTS IN HONEY
Honey is full of vitamins and minerals. The vitamins include vitamin BE, vitamin C, thiamin, niacin, riboflavin, pantothenic acid. Honey has the minerals of calcium, iron, magnesium, manganese, selenium, chromium, potassium, zinc, sodium, ash and phosphorus.
CALORIES IN HONEY
A tablespoon of honey has 64 calories. A cup of honey is 1,031 calories.
WAYS TO CONSUME HONEY
Honey can be consumed in so many ways, but the most simple and common way is in salad dressings, as a topping for toast and as a sweetener in tea.
These are also the healthiest way to consume honey because it keeps honey in its raw form as well as combines it with other healthy foods like greens and herbal teas.
Honey can also be used as an ingredient in recipes such as barbecue glazes and baked goods. These are less healthy ways to consume honey because some of the nutrients are lost when honey reaches a high temperature.
Honey should never be consumed by infants under the age of one.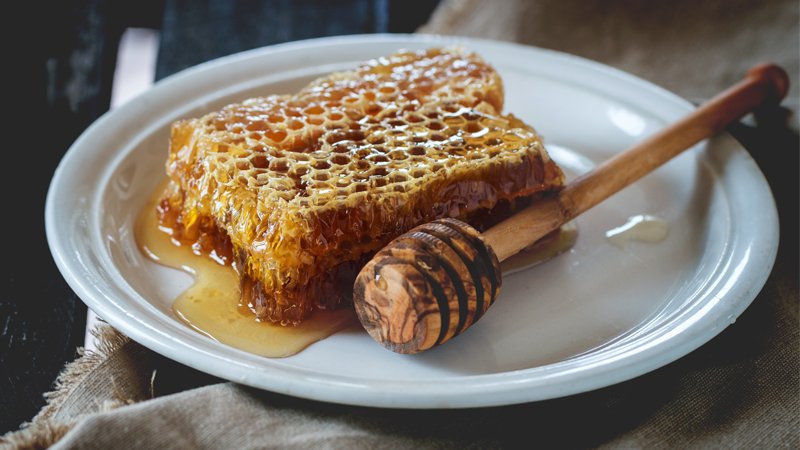 13 HEALTH BENEFITS OF HONEY AND ITS USES
Honey as a Sweetener
The most obvious use for honey is as a sweeter. Instead of table sugar, syrup (even agave), and artificial sweeteners, honey is a better choice. Simply consume honey in its raw form in cereal, teas and on toast. This is the easiest way to ensure you reap the health benefits. Too much sugar is detrimental to the body. Studies have linked high sugar consumption to diabetes, heart disease, immunity deficiency, acne, high blood pressure, accelerated aging, weight gain, and obesity. The effects of sugar on the body are not worth the sweet taste. Honey is sweeter than sugar and healthy. There are no health benefits to sugar. When it comes to an everyday sweetener, choose honey. It's an easy way sweeten your food.
Honey as an Energy BoosterHoney can be consumed to boost energy naturally. Honey is high in carbohydrates, 279 grams per cup. Consumed in small amounts, honey works great as an energy booster.The glucose and fructose quickly absorb in the system, so it won't take long before you begin to feel the positive effects. Most people are looking for an energy boost in the morning.A good way to use honey is to add it to your smoothies, breakfast cereals or teas.If you are trying to combat that afternoon slump, a spoonful of honey, a cup of tea, or a protein smoothie with honey is a great way to boost your energy levels and help you through the rest of the day.
Healing the Skin: ScarsHoney has high antibacterial properties. It works great for healing skin conditions such as scarring, scrapes, and burns.Honey has been recognized as having antimicrobial properties, deodorizing wounds, stimulating wound tissues; therefore, speeding up the healing process, and even initiating the healing process in dormant wounds.The moisture content in honey helps promote wound healing protecting it from outside elements and keeping in moist.Manuka honey is particularly good for healing the skin, but any honey will do. Apply a thin layer of honey directly on the affected area to begin the healing process.
Healing the Skin: AcneAnother way honey is effective is in helping heal acne and acne scars. The high antibacterial properties, as well as the anti-inflammatory properties, are good for reducing the redness and swelling associated with acne.Many acne medications are extremely drying to the skin. Honey helps hold in the skin's natural moisture, so it keeps the skin looking healthy while it heals the skin. Honey removes excess oil without drying the skin.The sticky texture of honey also helps with extracting any oil and dirt from the skin that may be missed from a regular face wash. And the natural probiotic and antioxidants help prevent acne breakouts and skin damage that iscaused by free radicals.Honey can be used as a mask, face wash or an exfoliating scrub. Wash the face with warm water and a face wash to get rid of any dirt and to open the pores. Then apply the honey directly to the skin. For an added benefit, combine honey with lemon or cinnamon—also good for healing acne.
Healing the Skin: MoisturizerHoney is excellent for retaining moisture in the skin. A common ancient remedy for dry skin is the classic combination of mild and honey. But honey alone will do the trick. Honey can be used on the face, scalp or the entire body.You can add it to shampoo, conditioners, moisturizers, or use it on its own.
Honey for the Scalp: Getting Rid of Dandruff (and possibly improve hair loss)The antibacterial and anti-inflammatory properties of honey can help kill the fungus that causes dandruff. Honey can relieve the itching and redness associated with dandruff.You can apply honey with warm water directly on the scalp to temporarily relieve dandruff. It takes a bit of time, but if you leave the mix on for three hours once a week, you can relieve the itching associated with dandruff.The European Journal of Medical Research conducted a study that linked honey to dandruff relief. The study also found that some participants noticed an improvement in hair loss.
Honey as an Antioxidant Antioxidants work at ridding the body of toxins and helping the cleansing process. Polyphenols are found in fruit, vegetables, tea and olive oil. Honey contains varying concentrations of this antioxidant.Polyphenols are known to reduce the risk of cancer and heart disease. Using honey internally or as a topical treatment helps clean out the skin and body.Since artificial sweeteners, table sugar and syrup can wreak havoc on the liver, replacing sugar with honey is a healthy way to protect your liver from the detrimental effects of too much sugar consumption.
Reducing Allergy Symptoms with HoneyHoney contains little amounts of pollen which is why it can act as a natural vaccine. As the body gets used to the small amounts of pollen in honey, it starts to build a defense system against pollen.If you suffer from allergy symptoms such as a runny nose, itchy watery eyes, itchy throat and sneezing during the spring or fall, you likely are allergic to the pollen in the air. Start by taking one tablespoon of honey a day, but be sure the honey is locally produced and raw.Raw, locally produced honey has all the enzymes, minerals, nutrients, and most importantly, pollen that you need. You are not going to reap the benefits from honey that has been pasteurized and produced in a different region.The heating of honey kills the nutrients and pollen, so you can't benefit from the allergy-fighting properties.
Honey for DigestionRaw honey contains enzymes which can aid in the digestion process. Not all science backs this claim, but ancient Ayurvedic practices used honey as a remedy for digestion.Try taking honey and lemon in warm water in the morning or before bed to cleanse the body and help food digest more easily.
Honey as a Cough Suppressant and to Relieve a Sore ThroatIf you are looking for a natural remedy to combat cold symptoms, honey has beentraditionally used to treat sore throats and a cough. Honey coats and soothes the throat.Honey can also treat respiratory infections. A study was conducted at Penn State and found that buckwheat honey was more effective for children as a cough suppressant than over-the-counter cough medicine.To soothe the throat drink warm water with honey and lemon or take a spoonful of honey.
Honey for MemoryThe antioxidants in honey help boost memory. Honey has been known to prevent metabolic stress which can aid in achieving a good night's sleep which in turn improves memory.The polyphenol properties in honey can fight the effects of oxidative stress, restoring our cellular defense system to help improve memory.Studies have been done linking the benefits of honey to the symptoms of dementia. Honey's natural antioxidant and therapeutic properties were believed to help dementia by improving circulation and the cholinergic system in the brain.The study concluded that people who consumed honey daily were less likely to develop dementia. Other research has shown that honey can improve the memory for women post-menopause. Estrogen levels drop after menopause, and low estrogen levels have been known to affect cognitive and verbal abilities. Studies have found that postmenopausal women who consume honey have better concentration and memory than women who do not consume honey.
Honey as a Sleep AidAs mentioned above, honey can improve sleep which helps with the brain's cognitive functions. What happens is that honey releases serotonin, a neurotransmitter, in the brain. Serotonin is then converted to a to a compound that can improve the quality of sleep.Honey also has the amino acid, tryptophan, the same amino acid found in turkey, a food traditionally associated with helping the body sleep. Tryptophan, when it enters the brain, can help regulate sleep cycles.Add some honey to your chamomile tea, or with some warm water with lemon or orange. Drinking this tea will help you relax and sleep better throughout the night.
Honey for HangoversThis one may surprise you, but honey has been known to cure a common hangover. When you drink a little too much the night before and wake up dehydrated with a headache, honey can help relieve the discomfort.Honey has a soothing effect on the stomach and has been known to quicken the oxidations process of alcohol. Tea with honey will hydrate your body and help speed up the process of detoxification.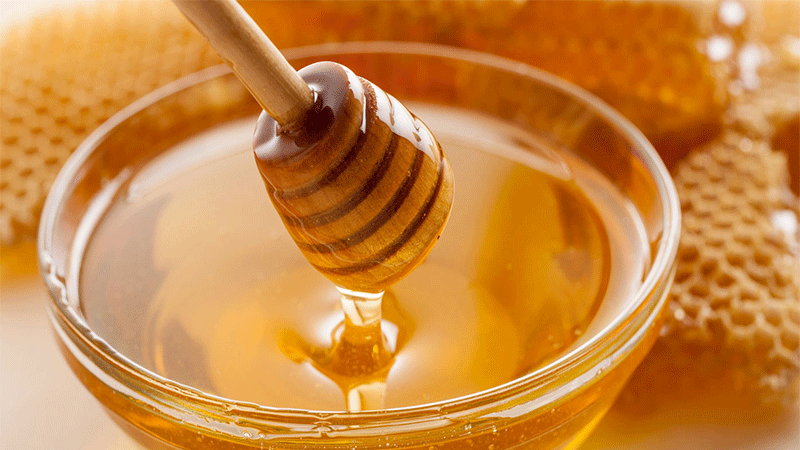 HOW TO MAKE SALAD DRESSING WITH HONEY
A common mistake that people make when eating salad is to add bottled, store-bought salad dressings. Salad dressingpurchased in a grocery store often consists of high amounts of sugar, artificial sweeteners, unknown and unnatural preservatives.
An excellent habit to get into is making your own salad dressings. You can add the ingredients directly to your salad or make it in the morning or the day before, so it's ready when you want to eat a salad.
One of the easiest and healthiest ways to consume honey is in salad dressing. A salad with a variety of dark and light greens, vegetables, and nuts is rich in vitamins, healthy fats, minerals and enzymes. Add honey to the mix, and you get even more nutrition added to your salad.
The formula is simple. Add honey to a citrus or vinegar like lemon or apple cider vinegar. Add a healthy oil (like olive oil), and a little salt and pepper. Mix together, and you have a healthy salad dressing.
The following are five easy and healthy salad dressings that you can make at home and avoid all the unknown ingredients in store-bought dressings.
OUR 5 HEALTHY AND SIMPLE HONEY SALAD DRESSINGS
Honey and Lemon Salad Dressing
1/4 cup of extra-virgin olive oil
4 tablespoons of lemon juice
3 tablespoons of raw, local, organic honey
Sea salt and black pepper to taste
Honey Mustard Salad Dressing
5 tablespoons of raw, local, organic honey
3 tablespoons of organic Dijon mustard
2 tablespoons of apple cider vinegar
2 tablespoons of extra-virgin olive oil
1/4 teaspoon of garlic powder
Sea salt and black pepper to taste
Honey and Balsamic Vinegar Salad Dressing
Crush a small clove of garlic
1/2 cup of balsamic vinegar
1/2 cup of extra-virgin olive oil
1/4 cup of raw, local, organic honey
1/2 teaspoon of sea salt
Black pepper to taste
Honey and Apple Cider Vinegar Dressing
1/4 cup of extra-virgin olive oil
1/4 cup of raw apple cider vinegar
2 tablespoons of water
2 tablespoons of raw, local, organic honey
1 ½ teaspoon of sea salt
1/2 teaspoon of black pepper
Honey Garlic Dressing
2 cloves of garlic minced
1/2 cup of extra-virgin olive oil
1/3 cup of raw apple cider vinegar
3 tablespoons of raw, local, organic honey
Sea salt and black pepper to taste
All salad dressing ingredients may be slightly adjusted according to your taste.
For extra flavor, when garlic is an ingredient mince the garlic first and cover with a little salt. Let it stand for a few minutes to let the juices seep out of the garlic. Then add the rest of the salad dressing ingredients. This will enhance the garlic flavor in the dressing.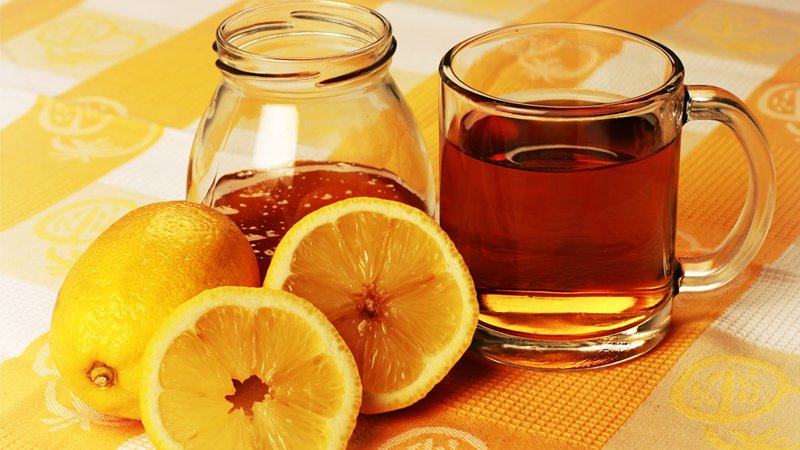 OTHER HONEY RECIPES
HONEY TEAS
Tea is a great way to incorporate honey into your diet. Tea has a unique ability to be soothing and energizing depending on the time of day it's consumed. Here are a few ways you can incorporate honey by making your own homemade tea.
Honey and lemon1 tablespoon of raw, local, organic honey
1 tablespoon or fresh lemon juice
Warm water
The classic combination of honey and lemon is a great detox tea for the morning or evening hours.
Honey, lemon, and ginger1 tablespoon of fresh ginger
1 tablespoon of raw, local, organic honey
1 tablespoon of lemon
Ginger is excellent for the immune system. The combination of honey, lemon and ginger is great for colds and flu. Drink often during cold season to prevent and treat cold symptoms.
Milk and Honey1 cup of warm almond milk (heat on low over the stove)
1 tablespoon of raw, local, organic honey
1/4 teaspoon of cinnamon
The combination of milk and honey has been around since ancient times. Drinking warm almond milk and honey before bed relaxing and satisfying. Denser than tea, this warm drink can serve as a healthy bedtime snack.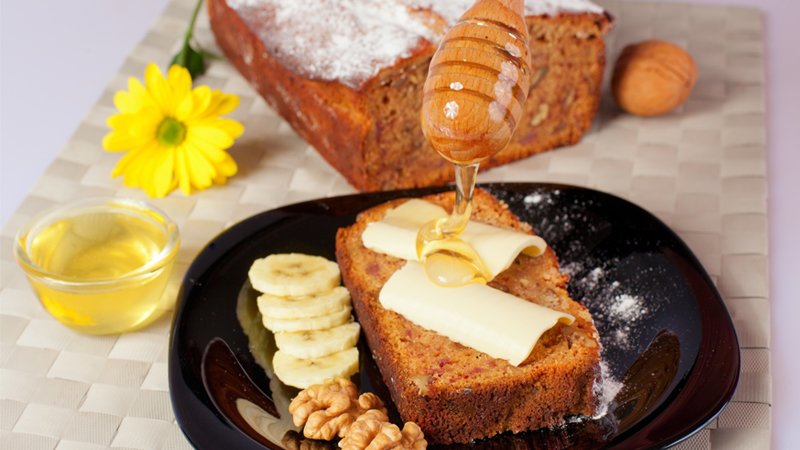 DESSERTS MADE WITH HONEY
Desserts are not considered healthy for the most part. Using honey in desserts often involves heating the ingredients and therefore, losing the nutritional benefits.
The following honey desserts are raw and do not involve heating the honey. Here are a few ways you can reap the nutritional benefits of honey while also satisfying your sweet tooth.
Frozen Honey Popsicles 2-2 ½ cups of water
3/4 cup of raw, local, organic honey
2-3 cups of fresh sliced or diced fruit, or small fruit like blueberries
12 Popsicle molds and sticks
Mix water and honey first. Divide the fruit evenly into popsicle molds. Pour honey water into the molds. Freeze and enjoy! This dessert is a refreshing way to enjoy the benefits of honey.
Raw Honey Brownies1 cup of pecans or almonds (or any preferred nut) crumbled in a food processor
1 cup of dates
3 tablespoons of raw cocoa powder
5 tablespoons of organic shredded coconut
2 tablespoons of raw, local, organic honey
1/4 teaspoon of sea salt
Mix ingredients together in a food processor, starting with the pecans or almonds and then adding the rest one by one. Do not process too long, allow the mixture to remain crumbly. Place mixture in a dish, pressing it down. Cool in the fridge. Serve cold.
Banana Honey Snack1 whole banana
2 tablespoons of raw, local, organic honey
1/2 teaspoon of cinnamon
Drizzle honey over sliced banana and sprinkle cinnamon. This simple snack is great for an afternoon pick me up, or a bedtime snack.
Frozen Banana Honey Ice Cream1 whole banana frozen
2 tablespoons of raw, local, organic honey
1 tablespoon of raw cocoa powder (optional)
Blend ingredients in a blender until smooth. Serve immediately. The dessert is a healthy alternative to ice cream.
Honey and Almond Butter Protein Smoothie2 cups of almond milk
1/2 of banana
2 tablespoons of almond butter
2 tablespoons of raw, local, organic honey
1 tablespoon of raw cocoa powder (optional)
2 tablespoons of protein powder (optional)
Blend ingredients in a blender until smooth. This smoothie is rich in protein and is a healthy snack option in the afternoon or after a workout.
HOMEMADE HONEY FACIAL MASK RECIPES
As mentioned above, honey is not only good internally but externally as well. Honey's anti-inflammatory and antibacterial properties are great for the skin.
The following are 5 homemade honey facial mask recipes that you can do once a week to reap the beauty benefits of honey. The following masks can help with acne, dry skin and uneven skin tone by cleaning, exfoliating and toning the skin.
Honey and cinnamon
3 teaspoons of raw, local, organic honey
1/4 teaspoon of cinnamon
This is a great mask for acne. Mix togetheringredients and apply to clean skin. Leave on for 10-30 minutes. Rinse.
Honey and lemon
1 tablespoon of raw, local, organic honey
1/2 teaspoon of fresh lemon juice
This is a great toner for the skin. Mix together ingredients, make a paste, and apply to clean skin. Leave on for 10 minutes.
Honey and oatmeal
3 tablespoons of ground oats
2 tablespoons of raw, local, organic honey
1 tablespoon of warm water (if needed)
This mask works great as an exfoliator. Mix ingredients together to make a paste. Apply to clean skin. Leave on for 10-30 minutes. Rinse.
Honey and Avocado
1/2 of a small avocado
1 tablespoon of raw, local, organic honey
This mask is great for dry skin. Mix ingredients together to make a paste. Apply to clean skin and leave on for as long as you like. Rinse.
Honey and lavender
2 tablespoons of raw, local, organic honey
2 drops of lavender essential oil
This is a great mask for all skin types and will leave your skin feeling fresh, moisturized and rejuvenated. Mix ingredients together. Apply to clean skin. Leave on for 10 minutes. Rinse.
RISKS ASSOCIATED WITH HONEY
For the most part, honey is considered safe when consumed in small amounts, which is the usual case when thinking of honey as a sweeter, an ingredient for a recipe or as an internal or topical treatment for a health issue.
However, there are still some risks that should be noted:
Risks associated with honey:
Honey is considered a risk if taken by infants (children under the age of one) due to the risk of botulism poisoning.
If you have an already weakened immune system, you should not eat honey due to the risks of bacterial or fungal infection.
An excess of honey consumption may cause anxiety, insomnia, or hyperactivity.
Consuming honey, even in regular amounts, could adversely affect high blood sugar levels
Some research suggests honey should be avoided if you have a severe allergy to pollen.
It should be noted that honey is NOT considered a risk if consumed while pregnant or breastfeeding.
BUYING HONEY ONLINE
Buying honey raw, local and organic is best, so it's important to know what kind of honey you are getting when you are shopping online. Unless you are looking for a specific honey from a specific region, always go for honey from theregion where you live.
The closer it is the better. That's why purchasing honey online can be a challenge in some cases.
Your best option is a local store that has the option of purchasing online or a local online store. The honey will be from an area in proximity to where you live.
If you are looking for convenience and want to purchase honey on Amazon or eBay, always include "raw" and the name of your State in the search engine. For example, "Raw Louisiana Honey." The top results will narrow down the honey from your region.
There are usually at least 2 or 3 options for raw honey from your state.
If you don't know what type of honey to purchase from your region, you can check out The National Honey Board's website. You can search your State, and the website will tell you details about the type of honey from your region and retailers in your area.
There is often links to local websites where you can purchase local honey online.
In some cases, buying local is not an option. Manuka honey, for example, is from New Zealand.
Unless you are living in New Zealand you will not benefit much from the small amounts of pollen in honey, but you can still benefit from the antibacterial properties that Manuka honey is known for.
Make sure when you purchase Manuka honey it's from Australia or New Zealand. There are shops online where you can get it directly from the source.
Authentic Manuka honey can range from $34 to $120 online. Just make sure it's unpasteurized, unfiltered, 100% raw and from New Zealand.
If you can, purchase your everyday honey from a local farmer's market or local grocery store. Honey consumed daily should come from plants that are just around the corner from you.
CONCLUSION
The health and nutritional benefits associated with honey are amazing.
Humans have been fascinated by honey for centuries, and we are still learning more. Our ancestors knew the health and beauty benefits of this sweet substance, but now science is finding out that much of what was speculated about the medicinal benefits of honey is true.
Science is also finding evidence about the detrimental effects to our bodies when we consume too much sugar: diabetes, weight gain, obesity, liver failure, high blood pressure, kidney disease, heart disease, addiction, and even cognitive decline.
The implications of too much sugar are fatal. Honey is the healthiest alternative. It's natural, delicious and even sweeter than sugar, but most importantly, it's healthy.
Consume honey in small amounts daily. Have it in your tea, cereal, smoothie, or toast, or take a tablespoon a day. The health benefits from raw, local, organic honey are surprising considering how little effort it takes to incorporate it into your daily diet.
If you want to learn more about honey check out the National Honey Board. The website offers a lot of research on the medicinal benefits, nutritional content, and resources on honey. There are a lot of recipe ideas as well.
The website is also an excellent source for finding out information on local honey in your area.