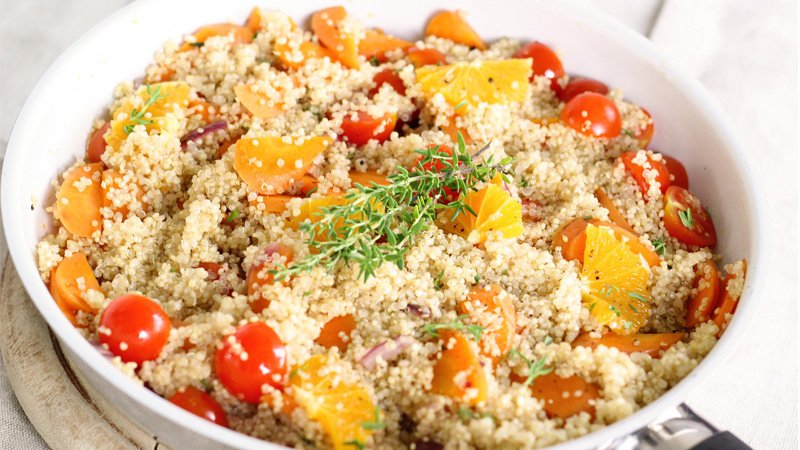 Quinoa has been a superfood for the last 5000 years because of its incredible health benefits. The Incan people utilized Quinoa for its warriors because they believed it gave them superhuman powers. Yep, you read that correctly, superpowers.
The reason why all those Incan warriors felt, so superhumanly isn't supernatural per se, but the result of eating one of the most nutritious, protein-packed foods. Quinoa contains all nine essential amino acids; this is what experts consider to be what's called a complete protein.
Quinoa is loaded with twice the fiber than other grains. Fiber substantially relieves high blood pressure, heart disease, and diabetes. Fiber allows you to lose weight as well. The fact that Quinoa contains fiber lets you feel fuller and has fewer calories than most grains.
Quinoa is also perfect for relieving digestion issues such as constipation, due to its extremely high fiber content.
Quinoa also has a high content of iron to help keep our red blood cells healthy and strong. Why Iron is so essential for our bodies is it helps carry oxygen from one cell to another. The brain consists of 20% of our body's oxygen, so Iron is a big deal.
What Vitamins Are In Quinoa?
Nutrition Facts

Serving Size: 185 grams or 1 cup.

Amount Per Serving

Daily Value

Protein
8 gm
–
Fiber
5 gm
–
Manganese
–
58%
Magnesium
–
30%
Folate
–
19%
Copper
–
18%
Iron
–
15%
Zinc
–
13%
Potassium
–
9%
Quinoa is a superfood that benefits all. From antioxidants to anti-inflammatory nutrients, Quinoa offers it all to those who eat it. I will provide the nutrient content below when it comes to 185 grams or exactly one cup. Be prepared, this list gets lengthy!
Protein has 8 grams.
Fiber has 5 grams.
Manganese has 58% of RDA.
Magnesium has 30% of RDA.
Folate has 19% of RDA.
Copper has 18% of RDA.
Iron has 15% of RDA.
Zinc has 13% of RDA.
Potassium has 9% of RDA.
10% of RDA is Vitamin B1, Vitamin B6, and Vitamin B2.
There are tiny amounts of Vitamin E, Niacin, and Calcium.
The total calories quinoa contains 222 calories, 4 grams of fat, and 39 grams of carbohydrates. Quinoa is so high nutrient; NASA has considered growing quinoa in outer space. Quinoa has come so far in becoming one of the most famous superfoods in the nation.
Quinoa Caloric Intake
When it comes to Quinoa, it is known for being a relative of spinach and beets. It is a whole grain seed that has many minerals, fibers, and proteins. Quinoa is not considered to be low calorie due to the fact it contains 220 calories. If you want to lower your caloric intake, stick to cooking ¾ of a cup of quinoa cooked. Quinoa is naturally low in sodium which allows you to have some wiggle room with your sodium intake.
27 Quinoa Health Benefits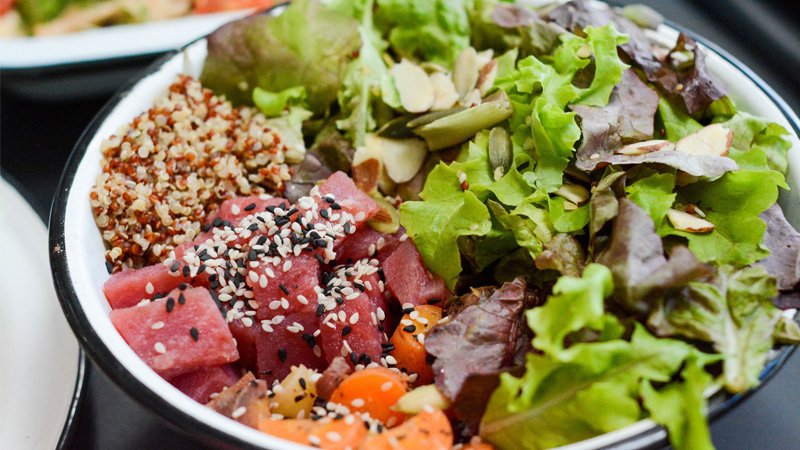 Quinoa is considered to be the "mother grain." It is high in protein, potassium, fiber, and an abundant of vitamins. For having such high nutrition value and an excellent food security, in the year 2013, it was named "The International Year of Quinoa." With these 27 benefits of quinoa, it will convince you why it is rated one of the best.
1. Quinoa is very nutritious: Quinoa is considered to be an essential seed that contains a minimal amount of omega-3 fatty acids. It also contains phytohormones. A lot of plants do not contain them. Some types are being studied to treat menopause and its symptoms. The phytohormones behave just like estrogens inside a woman's body.
2. Quinoa contains Quercetin and Kaempferol: We are all so familiar with the typical Vitamin C, E, and Magnesium. There are so many vitamins beyond the ones you are used to. These vitamins are called flavonoids. These are antioxidants that come from plants that supply many health benefits. The two flavonoids discussed are Quercetin and Kaempferol. These vitamins are found in quinoa. These two flavonoids prevent inflammation, cancer, viruses, and depression. If you incorporate quinoa into your diet, you will receive these flavonoids and essential nutrients.
3. Quinoa is high in Fiber: Quinoa has been known to be rich in fiber? How much, you ask? The amount of fiber in 100 grams of quinoa ranges from 10 to 16 grams. Quinoa's protein levels are twice as high as most grains such as rice. However, the most unfortunate part with cooked quinoa is it loses most of its fiber.
This is because the quinoa seeds retain so much water. However, the fiber in quinoa is shown to reduce blood sugar levels, weight loss, lowered cholesterol, and increase the fullness when it comes to each meal. Fiber improves any reactions to insulin and the formation of good hormones.
4. Quinoa is Gluten-Free: A lot of Americans have turned to the gluten-free lifestyle due to severe gluten intolerance or just improving their overall health. However, you need to be careful eating a gluten-free diet. There is potential for you to lack nutrients such as niacin, folate, thiamin, riboflavin, iron, fiber, and calcium.
With incorporating quinoa into gluten-free diets, there was a huge improvement in the consumer's health and an increase in essential nutrients. The top nutrients that were improved were fiber, iron, protein, and calcium.
5. Quinoa is high in essential amino acids: When it comes to the protein in quinoa, they are made out of amino acids. An essential amino acid that isn't in that many plant foods is lysine. However, lysine is found within quinoa. Not only is lysine considered to be the nine essential amino acids, this includes histidine, tryptophan, methionine, valine, threonine, phenylalanine, isoleucine, and leucine.
6. Quinoa is low on the Glycemic Index: The Glycemic Index is definedas being used for measuring how quick food raises your blood sugar levels. Food that is high when it comes to the glycemic index causes obesity, fluctuation in blood sugar, and easily stimulated hunger. Foods that raise blood sugar are heart disease and type 2 diabetes.
With quinoa, it is considered to be a 53 on the glycemic index. The average is 55, so quinoa helps stabilize you. When trying to avoid diabetes, quinoa is a great dish to prevent it, guaranteed.
7. Quinoa has a high content in Magnesium: Our diets today tend to lack the content of magnesium. Magnesium helps prevent osteoporosis, heart disease, and high blood pressure. Magnesium also allows us to feel fresh and rejuvenated everyday rather than tired and sluggish.
Quinoa holds about 30% of this essentialmineral, so this makes for a great substitute for the Magnesium supplement.
8. Quinoa helps prevent Osteoporosis: One of the leading causes to developing Osteoporosis is a Magnesium deficiency. It is due to the fact of the American diet which is full of genetically modified processed foods rather than organic food rich in nutrients. Due to the high content of magnesium in quinoa, it helps prevent deficiencies and leaves you less prone to diseases.
9. Quinoa helps prevent Heart Disease: Heart disease is one of the leading deadly diseases in our society. However, heart disease can easily be prevented. Cardiovascular disease has been caused by high amount of cholesterol. Cholesterol causes plaque to build up in the heart's vital arteries.
This can reduce blood flow and oxygen flow through your heart causing cardiovascular disease or cardiac arrests. A healthy diet to prevent heart disease includes vegetables, fruits, and high-protein content. Quinoa being a fiber helps eliminate waste inside the body.
10. Quinoa has a high content of iron: A lot of Americans lean towards having iron deficiencies due to poor diets. In one cup of Quinoa, you are receiving 15% of iron which aids in any deficiencies or give you a kick start to your immune system. Iron is paramount for muscle movement and high brain functionality.
However, Quinoa contains phytic acid which lessens the absorption of minerals. You can reduce phytic acid by soaking the quinoa before cooking it.
11. Quinoa Supports Muscle Metabolism: We all know that our muscles require certain nutrients to properly function. The primary nutrient that we aren't aware of what is iron. Iron helps create a higher and healthy muscle metabolism.
However, when you have a severe deficiency of iron, this causes neurological, biochemical, and physiological issues. Iron is the key to an active metabolism, increased exercise, and a stronger immune system. Quinoa is full of iron and is a perfect dish for those that suffer from iron deficiencies.
12. Quinoa has a high content of Zinc: Zinc is quickly forgotten when it comes to essential minerals needed for human health. Zinc prevents skin and liver diseases. Zinc deficiencies occur from low meat consumption and high grain consumption. Not having enough Zinc in your system can result in stunted growth.
Zinc encourages healthy bowel movements. If you are looking to boost your zinc content, Quinoa holds about 13% inside the seeds. This isideal for all infants, children, and pregnant women that are more susceptible to Zinc deficiency.
13. Great for the Skin: Quinoa holds essential antioxidants that promote healthier skin care. Antioxidants have the well-known vitamins such as vitamin C and E. However; Zinc is a crucial attribute on the antioxidant spectrum.
Zinc has been found to protect against any oxidative damage throughout the body. It also protects against UV rays and cuts that may arise. It prevents the risk of any levels of cancer and heart disease. No matter what anybody tells you, all body tissues in your body contain Zinc. It helps promote cellular and natural body growth.
Having enough antioxidants helps support psychiatric and immune functions. Quinoa holds about 20% of the antioxidants Vitamin C and E plus Zinc.
14. Quinoa helps protect the Liver: Many Americans suffer from liver damage due to factors such as alcoholism. We are all looking to improve our liver functions from all the wear and tear we have placed on our livers. That is where Quinoa comes in. Quinoa provides an enormous amount of zinc which provides healthy cell growth and development. Zinc deficiency has been found with liver diseases caused by alcoholism. It has been said that increased dosages of zinc help with the treatment of liver disease. Incorporating Quinoa into your meal daily will help improve your overall liver health.
15. Quinoa is Full of Potassium: You don't have to get all your dietary Potassium from bananas. Just one cup of quinoa provides 9% of potassium. Taking the daily amount of potassium which is 4,700 milligrams each day allows for treating heart failure, eating disorders, diarrhea, and kidney disease.
Incorporating high potassium in your diet lowers blood pressure, manage kidney stones, and reduce the risk of osteoporosis. Even though many developed countries such as the United States struggle with potassium deficiencies, quinoa is providing a new way to boost the essential vitamin, potassium.
16. Kidney Stones: What are kidney stones? Kidney stones are solid substances that are formed from calcium and uric acid build up. How they accumulate is the lack of proteins and supplements that prevent the solids from sticking together. The potassium provided in Quinoa helps impede the formation of kidney stones.
In a study conducted in 2009, the study was to evaluate potassium and its effects on kidney stones. They were able to confirm that potassium does treat kidney stones.
17. Quinoa Provides Essential Antioxidants: Antioxidants have always been known to prevent anti-aging and neutralization of any cell issues. There was a study performed in Brazil at the Department of Nutrition to see which foods had the highest antioxidant content. It included two types of legumes, three types of pseudo-cereals, and five types of cereals.
Quinoa nailed it by being the highest of all 10 participants. Antioxidants protect your lungs, heart, pancreas, and kidneys. The fascinating fact about quinoa is when sprouted, it raises the total amount of antioxidants provided in each seed.
18. Healthy Weight Loss: We are all looking to shed a few extra pounds or be at our ideal body size. To do that, we have to eat fewer calories than what we burn off at the gym. Quinoa is essential when losing weight. It is high in protein and fiber which increase your metabolism and make you feel "fuller" so you eat fewer calories.
19. Anti-inflammatory: Quinoa has become known to help lessen inflammation. Inflammation can be caused by autoimmune disorders such as lupus and arthritis. Quinoa promotes healthy microbes. Microbes are crucial when it comes to preventing metabolic diseases, autoimmune diseases, and obesity.
Inside quinoa, there are essential nutrients such as phenolic acids and Vitamin E to be anti-inflammatory effective.
20. Lower Cholesterol: High cholesterol levels tend to lead to heart disease and cardiac arrest. Quinoa provides a very high fiber content to lower your cholesterol. Fiber improves your digestion which needs bile acids that are created by cholesterol. When there is an improvement in your digestion, your liver uses cholesterol from your blood stream to produce bile acids.
When these bile acids are created, this allows the decrease of the bad cholesterol that builds up inside your body.
21. The Prevention of Anemia: Anemia is a well-known condition where there is a deficiency in hemoglobin or red blood cells in your bloodstream. This causes fatigue and lack of motivation. Anemia can be caused by a lack of iron in your diet. Quinoa contains a high content of iron which can rid of anemia.
22. Heart Health: Along with the countless benefits, quinoa helps your heart in numerous ways. Studies have shown that quinoa seeds contain flavonoids to reverse heart disease. Quinoa provides monounsaturated fats and omega-3 fatty acids.
Most foods lose that fatty acid when cooked, but quinoa can go through boiling, simmering, and steaming while still holding its nutrients intact.
23. Improvement of Digestion: Throughout America, millions are affected by many digestive disorders. These disorders can create effects such as constipation, gallstones, or diarrhea. There are even more severe diseases that affect us citizens such as cancer and ulcers.
Quinoa provides a sufficient amount of fiber which increases the production of your digestive system. One cup of quinoa provides 21% of fiber. It helps with irregular bowel movements and even softens stools.
The fact that Quinoa is gluten-free helps prevent digestive disorders even in those that are allergic to gluten.
24. Diabetes and Hypertension: Diabetes is one of the most common diseases in the United States. Type 2 diabetes is caused by obesity; quinoa helps make a difference with weight loss and reduce blood sugar levels as well. Quinoa regulates cholesterol and glucose levels which are so crucial for people with diabetes. An antioxidant that benefits people with diabetes and hypertension are called quercetin. The percentage of antioxidant activity in quinoa is 86%.
25. A Long and Healthy Life: We all want to live longer. We look for healthy ways to increase our life span with foods, skin care, and exercise. However, the fiber that is in quinoa will allow you to live much longer. It is found by studies that whole-grain consumption will increase your lifespan. Fiber prevents against deathly diseases such as cancer, diabetes, and heart disease.
Quinoa is an overall superfood that will lengthen your life and create a healthier lifestyle in the process.
26. Antiseptic Characteristics: Quinoa has been used to treat injuries since the Incas. Quinoa's saponins have been used as a cleaning solvent and an antiseptic for wounds. The effects of the saponins in the skin injuries are antimicrobial.
An antimicrobial kills bacteria and any grow that can happen from any bacteria. They tend to be exactly like antibiotics to be used against bacteria and fungi as well. Saponinshave also been used for individuals that suffer from dandruff and irritated scalps.
27. Positive Effects on Metabolic Health: It is no surprise that Quinoa improves your metabolic health. How this is gone about is a lot of nutrients. Quinoa has been found to reduce blood sugar and insulin levels. If your diet is in high in fructose, Quinoa is an inhibitor for any adverse effects of fructose levels.
Quinoa will help rid of fructose levels while creating a natural energy to accomplish your day.
Quinoa conquers it all when it comes to diabetes, heart disease, autoimmune diseases, etc. It brings new knowledge to you with how it benefits your health even with studies to prove it. Below I provide how to make your personal dish of quinoa and many delicious recipes that are rated five stars by many.
How to Make Quinoa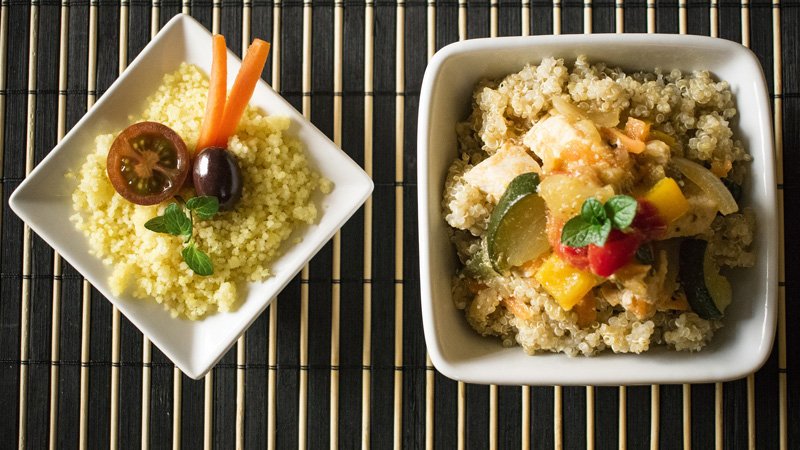 Quinoa has become all the rage over the past few years. From being a traditional South American dish hidden on the shelves in health food stores to national grocery stores, Quinoa has become an all-time favorite for its sweet delicacy, and its high protein content.
Now that Quinoa has stepped into the spotlight, pasta and rice will be considered to be the next substitutes.
When it comes to preparing quinoa, you need to remember always to rinse it first. Quinoa has a bitter coating called saponin. This coating helps protect the seeds when they are blooming on the plant from any predators that come to harm it.
It is very easy to remove the coating so do not fret. Usually, boxed quinoa has already been rinsed, but rinsing it with cold water helps remove that pesky layer we don't want to taste.
What you need to prepare your basic quinoa is one cup of any variety quinoa. You need olive oil, two cups of water or broth, and a ½ teaspoon of salt. First off, you rinse the quinoa with cold water for two minutes. Rub the quinoa with your hands then drain when the two minutes are up.
Next, heat the olive oil in a saucepan overmedium-high heat. Add the quinoa and cook for one minute to prepare the quinoa for the water or chosen broth. Add the two cups of water or broth with the salt and begin to boil.
Once brought to a boil, lower the heat and cover the quinoa for fifteen minutes. Once the fifteen minutes are up, let stand for five minutes to allow the quinoa to cool. Once cooled, fluff the quinoa with a fork to prepare and serve to all your hungry guests.