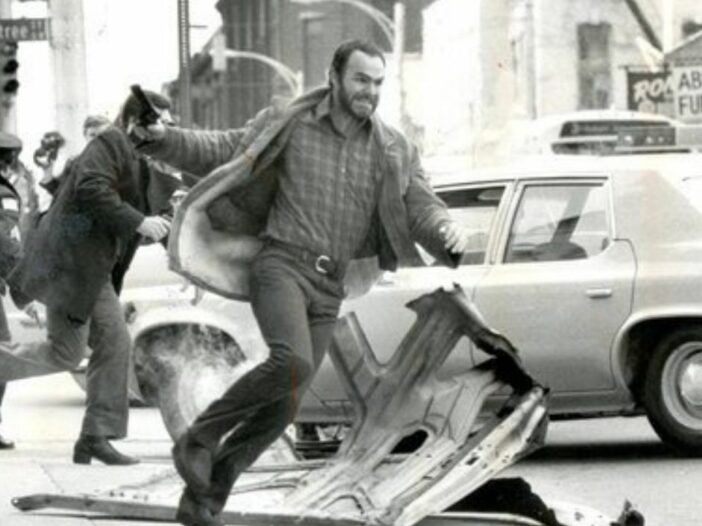 Friday night we watched Sharky's Machine. This is 100% a Burt Reynolds vanity vehicle – directed by and starring Burt, he has maybe three spoken lines and spends most of the movie smoking silently in a hotel room on stakeout watching a high-class prostitute.
So why would we even bother to watch this poorly-edited, poorly-acted cop film? Because it was shot primarily in Downtown in the late '70s. There are some cool scenes of Five Points, Kenny's Alley, Trinity Avenue, the Westin, Peachtree Center, and the old viaducts. The only time the story leaves Downtown is an outside shot of Callanwolde Fine Arts Center, which in the film is a heroin binge den/prostitution ring hub. Everyone speaks with cliched NYPD accents even though the film is set in Georgia. (Well, everyone except for Ralph, a tranny prostitute.) But I would rather be confused by Brooklyn accents in the APD's vice squad than hear terrible forced, fake Southern accents, so we let that inconsistency go.
Here are the first ten minutes of Sharky's Machine to get you hooked. Recognize anything? (It's easier to spot familiar buildings and sights when watching on non-pixelated DVD.)
There are also cameos from Atlanta's star newscasters of that era: Monica (Kaufman) Pearson, Wes Sarginson, Dave Michaels, and Forrest Sawyer.
We watched it at the invitation of "Kaneharvest," noted Downtown expert and inventor of the parking deck tour. If you don't know the C&S building from a hole in the ground then be sure you screen this film with someone who does, otherwise it won't be fun.
(According to some sources, Mark Wahlberg is remaking Sharky's Machine. It supposedly won't be set in Atlanta so who cares?)