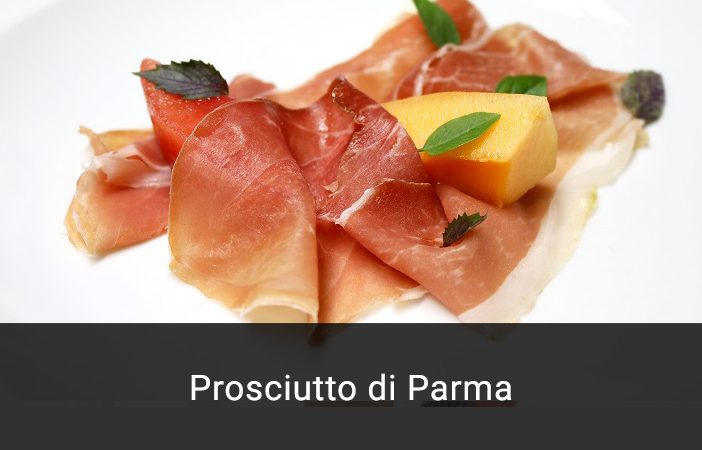 One of the most well-known time-honored foods of the Emilia Romagna region as well as the rest of Italy, Prosciutto di Parma's history dates back more than 2,000 years. During classical times, hams from Parma were one of the delicacies featured on banquet tables.
The special environmental, ecological and climatic conditions of the area of production provide the key to how this wonderful meat originated. In fact, just four ingredients are essential to the production of Prosciutto di Parma: Italian pigs, salt, air and time.
Parma hams are fed a diet of whey left over from the making of parmesan cheese, another culinary king of this region. During treating and curing, the hams are boned and then molded to achieve a round contour and then pounded with a thick wooden paddle to eliminate any wrinkles in the thick skin. Lastly, it is brushed to a fine polish.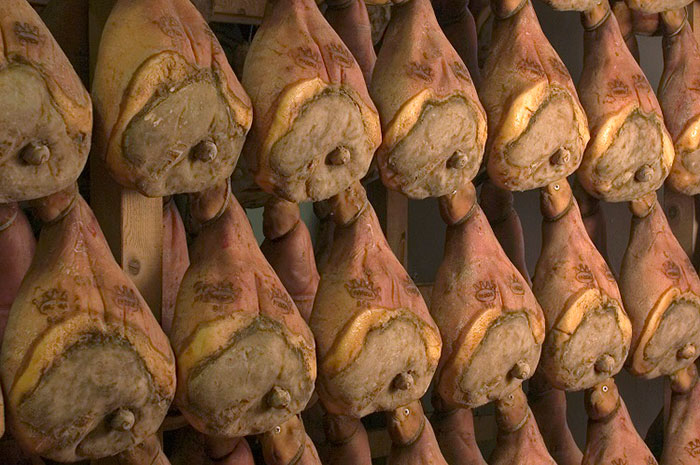 The ham then rests for a few days in a cool place before the delicate salting process begins. Because Parma hams are lightly salted, where most others are too heavily salted, Parma Hams' meat is slightly sweet and this is abetted by the mountain air, which discourages multiplication of bacteria provoking decay.
Related reading: Speck – Smoked Prosciutto
The curing process lasts 10 to 12 months and is carefully controlled so that the ham absorbs only enough salt to preserve it. By the end, a trimmed ham will have lost more than a quarter of its weight through moisture loss, helping to concentrate the flavor.
The end result is a cured ham, light pink in color – sweet, mild and tender in flavor and texture. Served in paper thin slices, the meat simply melts in your mouth. In Parma and elsewhere in Italy, a typical serving of Prosciutto di Parma can consists of three or four slices draped craftily on a plate — with bread and perhaps a glass of dry Malvasia, the slightly sparkling white wine of the region.
The Consorzio del Prosciutto di Parma (Parma Ham Consortium of farmers and producers) protects and assures the quality and authenticity of the product and enforces full respect for tradition.
A genuine Prosciutto di Parma may be identified by the trademark used by this consortium: a ducal crown. This crown is the only guarantee to consumers that the product they are buying has all the qualities that have made this ham justly famous throughout the world.