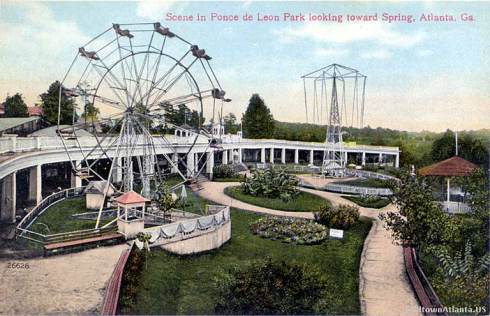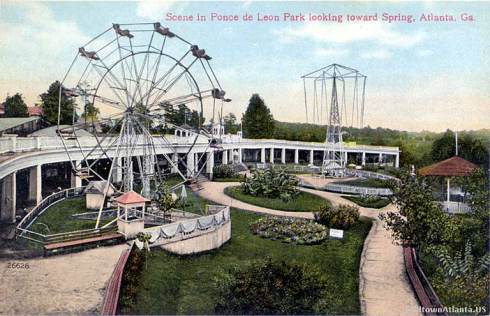 Are we heartbroken about the demise of DeKalb's plans for a tacky theme park? No? Well, you know, Atlanta did have its own amusement park, and I'm not talking about the place in Austell where you can buy Taz satin baseball jackets. It was Ponce de Leon Park, and it was the most beautiful place on earth, known as "the Coney Island of Atlanta." That area is now known as "where the Whole Foods is in Midtown."
Well, we all know the Atlanta Crackers used to play at that site, but before Ponce de Leon Park came along in the very early 20th century, that area had a spring and some little man-made lakes with summer houses.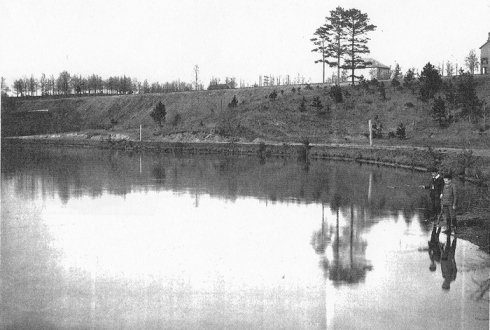 A summer house along Ponce; can you imagine? Everything you see covered in water in that photo is now covered in asphalt, for parking.

But before parking, the lake was filled in to become a ballpark for the Atlanta Crackers in 1907. (The infamous magnolia tree from the deep right field still stands to this day!) Not into baseball? You could still catch other entertainment nearby like alligator wrestling.
When Ponce de Leon Park opened June 1, 1903, it offered such amenities as the lakes, greenspace for picnics (although no one threw around new urbanist words like greenspace back then, not even Olmsted), along with "the theater, the merry-go-round, the laughing gallery, the cave of the winds, the penny arcade, the Japanese ping pong parlor, the Ferris wheel, the pony track, the miniature railways, the Gypsy village, the shooting gallery, the knife and cane boards, the baby racks, two attractive restaurants, pop corn and candy stands and two elegant soda water pavillions." A GYPSY VILLAGE?! A JAPANESE PING-PONG PARLOR?!?! And what the dickens is a baby rack?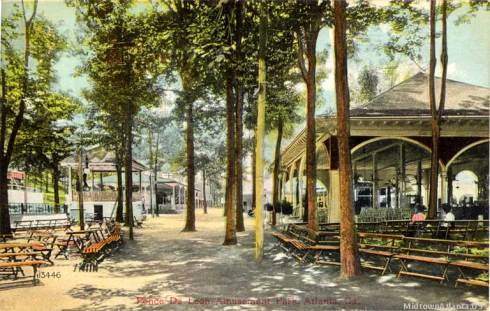 Read more about the park at Southern Spaces in this fascinating article "Vale of Amusements: Modernity, Technology, and Atlanta's Ponce de Leon Park, 1870-1920" by Sarah Toton, or about the ballfield at the New Georgia Encyclopedia, or check out these old postcards of the park. If you have the money or can find it at a library, David Kaufman's Peachtree Creek: A Natural and Unnatural History of Atlanta's Watershed is also a great read on the springs and park.