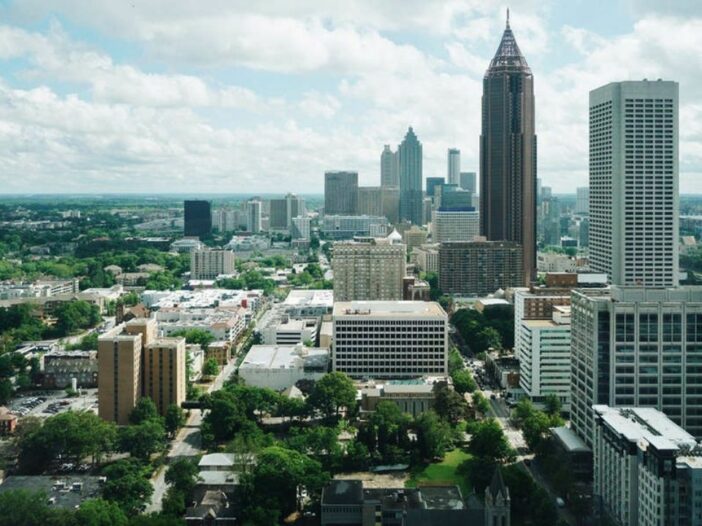 You guys, let's get real about our roots. Atlanta has not always been the wholesome, safe hometown we love and respect. There was once a tainted time in our genteel city before the Clermont Lounge, before the Ying-Yang Twins, before the basement dungeon at the Atlanta Eagle – this was a long, long time ago, but it existed nevertheless.
The other day I discovered (on what appears to be the blog of the Wigwam building) this excerpt from the 1889 tome History of Atlanta by Wallace P. Reed:
East Tennessee, Virginia, and Georgia is the railroad company that in the very late 19th century became Southern Railway and eventually Norfolk Southern. These shops were later known as the Pegram Shops. Snake Nation is now Castleberry Hill, but lives on as the name of the neighborhood's kickball team.
More on this area from the DeKalb Sheriff's website:
By 1851, two sections of Atlanta, known as Murrel's Row and Snake Nation, inhabited by the criminal element, had grown in size and reputation. The first Atlanta jail was not very suitable. Prisoners would either dig their way out, or wait until enough people had been incarcerated, at which time they would simply turn the structure over, and crawl out. It was in this year that law abiding citizens started their own war against crime, and completely destroyed Murrel's Row and Snake Nation, scattering their inhabitants.
Murrel's Row?" (Also spelled Murrell's Row.) "What's that?" you ask. From Archival Atlanta:
Named for the notorious Tennessee murderer, John A. Murrell, this section of town was a favorite hangout for thieves, gamblers, cutthroats, and prostitutes. Drunken brawls and cockfights were common and expected here. Before the Civil War, Murrell's Row was the preferred meeting place for those who wanted to fight and concoct schemes. This notorious area north of Decatur Street between Peachtree and Pryor faded away shortly before the Civil War.
John Thrasher, as quoted in Pioneer Citizens' History of Atlanta, 1833-1902, agrees: "Decatur street was called 'Murrel's Row', and it was a great place for cock-fighting."
According to one source, "Atlanta had begun as a collection of shanties, whorehouses, and saloons." My, how little has changed! This time, about 15 years before the Civil War, was one of ill repute for Atlanta. "The period was noted for its corruption," says Reed's history. "Bad institutions of every sort were scattered about the place." He describes Murrel's Row geography as "the block starting at the juncture of Line, Decatur and Peachtree streets, and running back towards Pryor on Decatur street." (Basically, right at Five Points.
The rise and fall of Murrel's Row and Snake Nation, like Atlanta's own Sodom and Gomorrah, from Atlanta and Its Builders (1902):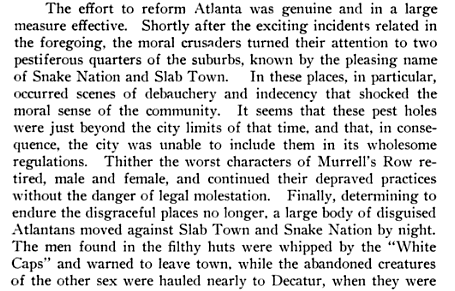 "White Caps" isn't a euphemism for the KKK, but I think some sort of vigilante moral police. According to Atlanta's now-defunct ward system, Murrel's Row fell in – guess where? The red light old Fourth Ward. (Slabtown is the area where Grady Hospital now stands.)
While digging all this stuff up, I found out why the neighborhood called Pittsburgh got its name – and it's not very flattering to the original Pennsylvania city (via the Southeastern Railway Museum):
During that time, smoke from Pegram [Shops] and other industries centered around Windsor and Love streets in south Atlanta causing the area to be called "Pittsburgh."
Here's a longer history of Pittsburgh, if you're interested. It's not as colorful as Snake Nation and Murrel's Row, though!